Gidon Kremer, Martha Argerich, 06/12/06, Konzerthaus, Vienna
Sometimes I am a really bad listener. Yesterday I was at the
Konzerthaus
enjoying a great female pianist and a passionate violinist. After minutes my thoughts were drifting. I pondered about everything which I was not able to in the last days. I even considered things, which made me slap myself (but not for real, just virtual).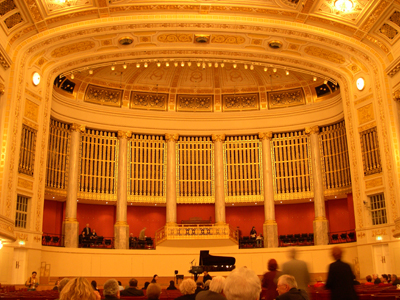 Though I was not as attentive as I wished, I did recognize the great abilities of the performers. Gidon Kremer was somehow crawling into his violin. During specific Béla Bartók passages you were barely able to see the instrument. I guess one can only be a good musician, when she/he is moving with the music (and I am hardly ever moving when I play the piano). Martha Argerich gave her first concert at the age of 8. When she was 14 her parents decided to move to Vienna so she could get the
best education. As she played the
Kinderszenen
from Robert Schumann you were able to see her passion. One woman behind me was totally going "Bravo" during the applause.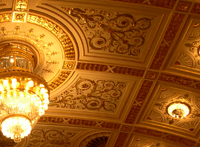 The Béla Bartók pieces were challenging for both, the musicians and the audience (mostly above their forties). Few people left after the
Kinderszenen
. And about a quarter of the listeners did not hear the three encores, which were nice and fluffy like snow flakes dancing. I have to admit that I did not like the Bartók pieces that much either. As I learned all kinds of stuff concerning music from 5
th
to 8
th
grade, I was always searching for repeating patterns which were hard to find. At school the teacher shows you the stuff and you have the score in front of you.
The architecture of the Konzerthaus is also nice to look at. I guess it is Jugendstil. Let me know if that is wrong.
The programme:
Robert Schumann
Sonate Nr. 2 d-moll op. 121 für Violine und Klavier (1851)
Béla Bartók
Sonate für Violine solo Sz 117 (1944)
***
Robert Schumann
Kinderszenen op. 15 (1838)
Béla Bartók
Sonate Nr. 1 Sz 75 für Violine und Klavier (1921)